What if we told you that healthy skin can be achieved just like a healthy body? Like workouts, skin fitness can be achieved where your skin looks dewy, radiant, and toned without injectables and surgery.
Our Skin Coaches are here to help you achieve your skin fitness goals with our bestselling non-invasive Bespoke Skin Fitness Program using Cell Therapy. You can expect radiant skin, minimised pores, evened skin tone, reduced fine lines and wrinkles, firmer, lifted and toned skin.
Cell Therapy is a fantastic alternative to invasive and surgical treatments.
No downtime
No needles
No surgery
No pain
No scars
Our Bespoke Skin Fitness Program uses TECAR technology for skin rejuvenation, fat burning, and skin cell repair. TECAR therapy is a form of endogenous thermotherapy or diathermy, where it heals your body using high frequency waves by creating heat from within, resulting in these benefits:
Boosts metabolism, oxygen circulation, and detoxification for a dewy, fresh look
Stimulates collagen and hyaluronic acid production from within for bouncy, hydrated skin
Relaxes muscle tension for wrinkle prevention and reduction
More localised fat burning for a slimmer look
This technology is popularly used in physiotherapy to treat injuries in athletes, and now we're bringing this technology into our Bespoke Skin Fitness Program.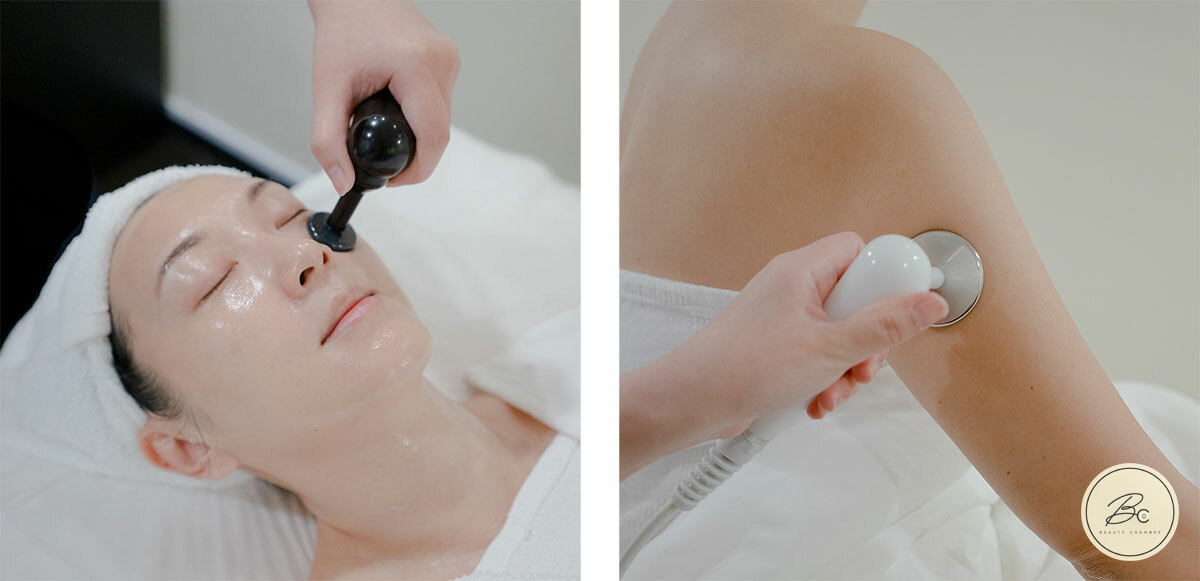 Cell Therapy Treatment
Your personalised Cell Therapy treatment will include:
A gentle cleanse.
A conductive gel is applied to the skin, which helps to transmit the radiofrequency energy.

Capacitive phase:

A small, flat probe is placed on your skin, and gradually heats up. This pleasant warmth even puts some of our clients to sleep!
This warmth will reach your muscles. Thanks to increased metabolism and the resulting boost in hyaluronic acid and collagen production, you will achieve firmer, more lifted and hydrated skin.

Resistive phase:

Here, we will stimulate your bone structure, ligaments and fat. You will feel a very mild tingling.
Thanks to more localised fat burning, you will achieve a slimmer look.

Finally, post-treatment skincare products are applied, which will be personalised to your needs and goals. Your skin will immediately look and feel healthier and firmer.
Need more guidance throughout your journey? Our Skin Coaches will be on hand to address any of your skincare concerns.
Skin Fitness Packages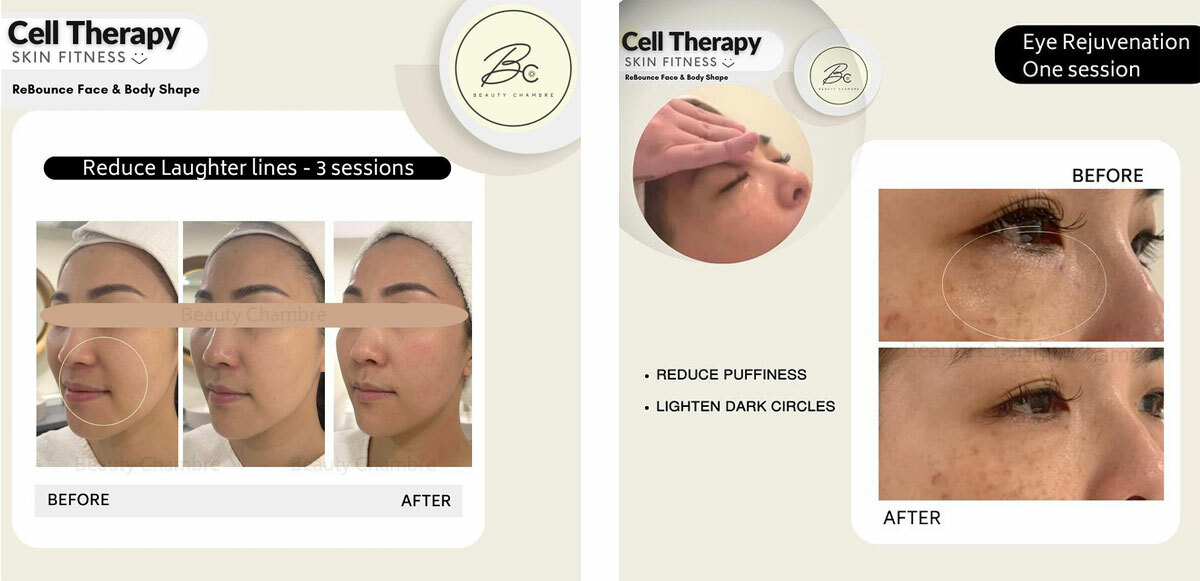 Treatment Area
Trial Price
Promotion
for New Clients
Subscription
Package
Eyes - 30 mins
Targets eye bags, dark circles, wrinkles, droopy eyelids
RM 688
RM 198
Buy 1 Free 1
RM 688
RM 1,888
(3 months, approx. 10-12 sessions)




RM 2,888
(6 months, approx. 20-24 sessions)

Face - 60 mins
Targets frown lines, laugh lines, sagging cheeks, jowls
RM 1200
RM 298
Buy 1 Free 1
RM 1,200
RM 4,888
(3 months, approx. 10-12 sessions)




RM 6,888
(6 months, approx. 20-24 sessions)

Neck - 30 mins
Targets double chins and necklines
RM 688
RM 198
Buy 1 Free 1
RM 688
RM 1,888
(3 months, approx. 10-12 sessions)




RM 2,888
(6 months, approx. 20-24 sessions)

Body (by parts) - 60 mins
Loose belly skin, stubborn fat, cellulite
RM 1200
RM 388
Buy 1 Free 1
RM 1,200
RM 6,888
(3 months, approx. 10-12 sessions)




RM 9,888
(6 months, approx. 20-24 sessions)
* Prices include 6% SST
* Valid until 30 June 2023
* Number of sessions are dependent on your skin condition and skin goals
Frequently Asked Questions
What is Cell Therapy?
It is a skin fitness program that uses a new innovative medical technology called "diathermy" that is revolutionizing the beauty industry. You can achieve firmer, tighter skin and a youthful appearance. That works on:
• ReForm Healthy Cells
• ReTone Muscles
• ReBounce Face & Body Shape
Why is Cell Therapy the new future of beauty?
Cell Therapy is an advanced multifunctional treatment that uses diathermy technology that generates deep heat directly in facial and body tissues to promote blood circulation, regenerate tissues, tone muscles, shape body contours and improve well-being.
Why is diathermy technology so amazing?
Diathermy is a therapeutic treatment most commonly used by physiotherapists to treat muscle and joint conditions. It stimulates your body tissues to generate heat using a high-frequency electric current at a frequency 448 kHz (448,000 cycles per second).

This causes your body to generate heat from within, and the benefits include:
• increased metabolism at a cellular level
• improved blood circulation
• increased stimulation of tissue regeneration
• increased muscle toning
• improved body contouring
• accelerated restoration of total wellbeing

How is Cell Therapy different from other thermal treatments using radio frequency (RF)?
Diathermy uses an electric current to produce heat deep inside the targeted tissues. Besides treating muscular and joint conditions, this technology is also used to treat sinusitis, temporomandibular joint problems or headaches.

Some differences between diathermy and RF include:
• Heat generation: Diathermy generates heat from within your body. As for RF, heat is generated from the device's electrodes.
• Targets: Diathermy targets the skin, muscles and even bones, thus treating muscle and joint conditions. RF is only able to reach the epidermis and dermis.
• Sensitivity: Diathermy is safe for all skin tones because heat is generated from within the body, while people with darker skin are at higher risk of side effects from laser and RF treatments.

Our diathermy machine does not apply heat directly to the body like RF. Instead, the current produced allows the body to generate heat from within to increase circulation, tissue regeneration, muscle toning, body contouring, and overall wellness restoration.

What can I expect from your Cell Therapy program?
• Immediate effect: Your skin will look like you have just had a good workout: smoother, rosy, and radiant!
• Long-term effects: Minimised pores, evened skin tone, reduced fine lines and wrinkles, and firmer, lifted and toned skin.
Is Cell Therapy safe?
Rest assured that Cell Therapy treatments are completely safe. The science behind is diathermy, also known as TECAR Therapy, which is popularly used in physiotherapy on athletes to treat inflammation and boost recovery.

Does Cell Therapy hurt?
Not at all! You will only feel a pleasant warmth during the capacitive phase and a mild tingling during the resistive phase. Intensity of sensations will vary from one individual to another.

Will Cell Therapy burn my skin?
Absolutely not, as your body temperature is only increased by 1% resulting in your metabolic rate increasing by 10%-13%.

How often should I have Cell Therapy sessions?
The frequency of your treatment sessions will depend on your skin condition and your goals. Our Skin Coaches will monitor your progress to ensure that your skin also receives adequate rest in between sessions for optimum results with zero downtime.

Where is Beauty Chambre located?
We are located at Taman Danau Desa, Kuala Lumpur. Click for directions via Waze and Google Maps.

Do you offer installment plans?
Yes, we offer 0% interest 12-month installment plans for Maybank and Hong Leong Bank cardholders! Please drop by our treatment centre in Taman Danau Desa, Kuala Lumpur for more information.

What are the contraindications of Cell Therapy?
This treatment is not suitable for pregnant and breastfeeding women, cancer patients, heart disease patients (including those with pacemakers), and anyone with skin infections and open wounds.